Here is a recipe for red velvet cupcakes: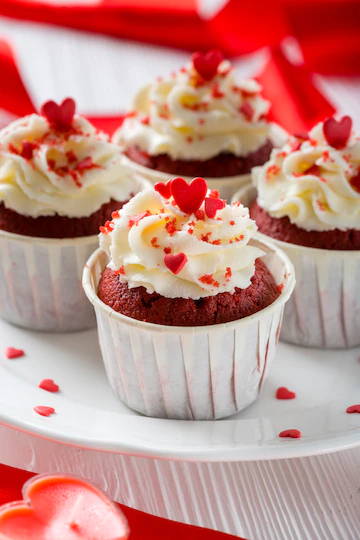 Ingredients:
1 1/2 cups all-purpose flour
1 cup granulated sugar
One tablespoon of cocoa powder
One teaspoon of baking powder
1/2 teaspoon salt
1/2 cup unsalted butter at room temperature
Three large eggs at room temperature
1/2 cup buttermilk
One teaspoon of vanilla extract
One teaspoon of red food coloring
Cream cheese frosting:
8 ounces of cream cheese at room temperature
1/2 cup unsalted butter at room temperature
3 cups powdered sugar
One teaspoon of vanilla extract
Instructions:
Preheat your oven to 350°F (180°C). Line a muffin tin with paper liners.
In a medium bowl, whisk together the flour, sugar, cocoa powder, baking powder, and salt.
In a large bowl, beat the butter with an electric mixer until creamy. Add the eggs one at a time, beating well after each addition.
Add the dry ingredients to the butter mixture in three parts, alternating with the buttermilk and vanilla. Beat until just combined, then stir in the food coloring.
Divide the batter evenly among the muffin cups.
Bake for 18-20 minutes, or until a toothpick inserted in the center of a cupcake comes out clean.
Remove the cupcakes from the tin and let them cool completely on a wire rack.
To make the frosting, beat the cream cheese and butter together until smooth. Gradually add the powdered sugar, beating until the frosting is smooth and creamy. Beat in the vanilla.
Spread or pipe the frosting onto the cooled cupcakes.
I hope you enjoy these red velvet cupcakes! They are moist and flavorful, with a rich cream cheese frosting. You can also try adding chopped nuts, sprinkles, or chocolate chips to the frosting for added texture and flavor.